Got a bee issue? Get In Contact with Stung And Sticky Beekeeper!
Give us a call TODAY for any bee related issue you may be having in Arizona!
Get a free consultation over the phone were we will discuss what you've got going on and what the best option for you will be. In most cases we can give you a flat rate quote over the phone so you'll know exactly what we charge.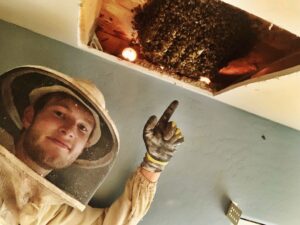 Stung and Sticky Beekeeper LLC will be take care of you and your bees. When most companies say the bees cannot be saved – we can! We take pride in our expertise and customer service! If you have any questions about bees or our services please don't hesitate to contact us – we would be more than happy to talk to you! Let us take care of any bee situation you find yourself in – bee stings and all!
For a free estimate and diagnostic give us a call (623)882-5890  or fill out the contact form above! Job prices vary depending on where the bees are located (house, tree, building, cave, etc.) and how long they have been there (the longer they've been there the longer they'll have to built creating more problems. That's why we recommend getting them taken care of IMMEDIATELY!)